Ron Stroud receives Berkeley Citation
May 12, 2006
At the Classics/AHMA Commencement Ceremony on May 12, 2006, Ron Stroud, Klio Distinguished Professor of Classical Languages and Literature, was awarded a Berkeley Citation, the highest Award the Berkeley Campus can confer, for a lifetime of distinguished contributions as a scholar, teacher, and member of the Campus community. The Citation is largely the product and work of many of Ron's former students, who in great numbers wrote glowingly of his scholarly example, his teaching, and his mentorship as factors that had changed their lives and contributed to their progress in the field. At the ceremony, Erich Gruen presented the Citation to a (very surprised) Ron Stroud, speaking warmly of their nearly forty years as colleagues; of the twenty-six volumes of SEG (Supplementum Epigraphicum Graecum) Ron has edited; of his work excavating and publishing the sanctuary of Demeter at Corinth. He praised Ron's enduring commitment to Classics and AHMA, to the rigorous teaching of Greek at every level, and his remarkable support for students for over four decades.
Berkeley requires that the Citation remain utterly confidential until it is presented, and this we did successfully (see our photo gallery for proof). This was achieved by an affectionate conspiracy of many people; Ron's wife Connie and his brother Barry (a professor in the Berkeley Philosophy Department) were also present to witness the awarding of this great honor.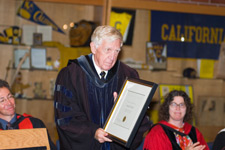 At the same time, Erich Gruen announced the creation of the Ronald S. Stroud Graduate Fund, endowed by an anonymous donor in the amount of $10,000, with matching funds of $10,000 contributed by the Graduate Division. This $20,000 fund is intended as seed-money for what the Department hopes will eventually be a full graduate fellowship endowed and named for Ron Stroud. Thus we encourage Ron's friends, family, colleagues, students, and former students to contribute to this worthy cause—a fund that will be a ktêma es aei to memorialize Ron's contributions to Berkeley. To contribute to the fund, please click here for online giving (please indicate that the money is intended as a contribution to the Ronald S. Stroud Graduate Fund), or download a contribution form and send a check through the regular mail.