Leslie Kurke to Receive APA Goodwin Award
December 4, 2012
Leslie Kurke is the 2012 recipient of the Charles J. Goodwin Award of Merit of the American Philological Association for her recent book Aesopic Conversations: Popular Tradition, Cultural Dialogue, and the Invention of Greek Prose (Princeton 2011). An official award statement will be posted on the APA website soon, and an abbreviated version will be read out when the Award is presented to Leslie at the Plenary Session of the APA at its meeting in Seattle in January 2013. The official award citation can now be read online.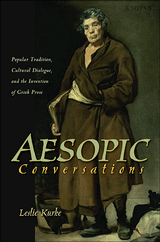 The Goodwin Award, named in honor of a long-time member and generous benefactor of the American Philological Association, is the only honor for scholarly achievement given by the APA. An elected committee considers dozens of candidates each year and picks one as an outstanding contribution to classical scholarship published by a member of the Association during the three years before the current calendar year.
This award brings to three the number of Goodwin winners currently on the faculty and to four the total number for the Department (previously Kendrick Pritchett in 1976, Donald Mastronarde in 1997, and Kathleen McCarthy in 2002).