Parthenon casts mounted in Dwinelle Lobby
February 14, 2011
On the weekend of February 12-13, workmen began the installation of several casts from the Parthenon Frieze in the lobby of Dwinelle Hall. Installation will be completed within the next few weeks, and permanent signage added in the near future.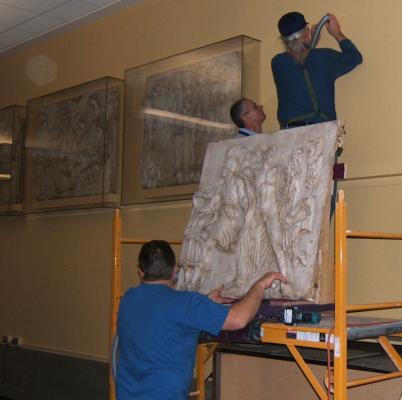 In the late nineteenth and early twentieth century, it was common for universities in Europe and the U.S. to acquire plaster casts of famous Greek and Roman sculptures. These were exhibited as an aid both to students of ancient art and to students of fine arts or art practice, since in the Beaux Arts tradition study and drawing of masterworks of the past were strong components of the curriculum. UC Berkeley had such a teaching collection, purchased by benefactor Phoebe Apperson Hearst and owned by the Phoebe Apperson Hearst Museum. With the changes in twentieth-century art and art education, however, the casts ceased to be used and were placed in storage. With some effort, Professor Stephen Miller (now Emeritus) located the casts a few decades ago. Many of them were stored in unsuitable conditions, and he encouraged that they be protected from further damage. In 1992 the Fine Arts Museums of San Francisco donated the casts in their possession to the Department of Classics, augmenting the UC Berkeley collection. Eventually, Miller was able to lead a couple of graduate classes in study and restoration of a limited number of the important pieces (for more information, see the Casts web site).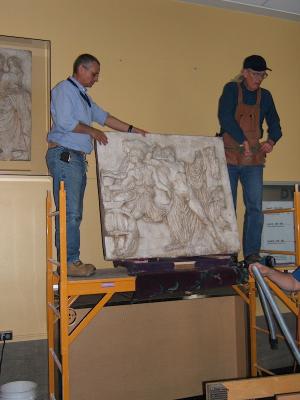 After Miller's retirement, Professor Leslie Kurke, during and after her term as Department Chair, tried for several years to find a location or locations where some of the sculptures could be displayed again. With the help of Cathy Koshland, Vice Provost for Academic Planning and Facilities, the recent project of refurbishments and renovations in Dwinelle Hall made room for some of the pieces owned by the Department (those owned by the Hearst Museum continue to be inaccessible). Several sections of the Parthenon frieze will be permanently visible high on the wall in the north-south corridor of the Lobby, and two standing statue will be located in niches on the opposite wall (see separate story).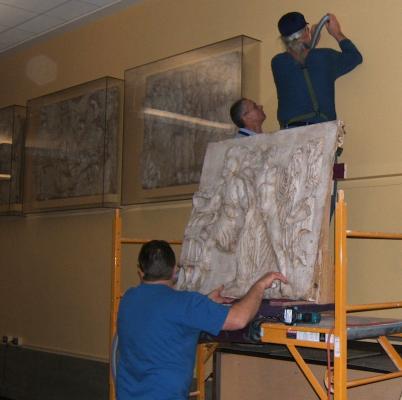 Costs of transportation, site preparation, mounting, and signage have been supported by the Dwinelle construction project with additional funds provided by the Department from the Melpomene and Klio Professors chair funds.