Digs and Doings: Summer research update
October 16, 2007
Sardis 2007
At Sardis, in western Turkey, fieldwork co-sponsored by Harvard University Art Museums and Cornell University exposed antiquities ranging from the Lydia era in the 7th and 6th centuries BC through Late Roman times in the 5th century AD. Patrick Crowley (UCB '06; now at Bryn Mawr) continued his excavation of a Lydian house destroyed by fire ca. 550 BC and subsequently buried under the Hellenistic and Roman theater. Felipe Rojas (UCB graduate program in Classical Archaeology) continued excavating and recording the Altar of Artemis, and investigated a massive Hellenistic foundation nearby. Brianna Bricker (UCB '08; History major) helped record and photograph a Roman mausoleum containing a sculptured 'Asiatic' sarcophagus and two Late Roman underground tomb chambers painted with motifs of paradise. - C. Greenewalt
The Nemea Center 2007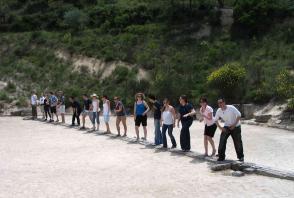 In 2007, the Nemea Center for Classical Archaeology again offered through Summer Sessions two archaeological field schools in Greece under the direction of Dr. Kim Shelton, Director of the Nemea Center.
In June, five teams, made up of one graduate and two/three undergraduate students, were assigned an area of the site in the Sanctuary of Zeus at Nemea. The students were asked to identify, classify and catalogue important ceramic deposits in order to produce a team analysis of the deposits and their importance in the understanding of the site's history. Interesting discoveries were made among Late Antique domestic wares (milk curdler), Iron Age ceramic use and display, and Prehistoric occupation of the area. Students also excavated a small trench (GT) near the museum that contained levels of fill with pottery fragments ranging from Byzantine to Modern, all lying over a deep thick clay level that may be the result of an ancient flood.

In July, we excavated at Petsas House, Mycenae with seven graduate and 14 undergraduate students. The graduate students supervised six trenches in various rooms of the building, a ceramics factory and storage facility destroyed late in the 14th century BCE. Over the course of the field school, teams of undergraduates rotated through each trench, primarily responsible for observation and recording of the excavation but also participating in every aspect of the digging and field conservation, especially in the recovery of several carbonized wood beams and intricate cleaning of a deposit of wall paintings. A fascinating new discovery was a storeroom of large-scale provisions in pithos jars flanking the building entrance and pieces of similar jars at the bottom of a 12 m well. Students were also involved in the workroom of the site museum with the cleaning, sorting, and cataloguing of sherds, and the restoration of vases. Over 60 extra-large bags of sherds (+1000 pieces) were catalogued this year and more than 100 vases were restored from those bags. Small finds were identified as well: boar's tusks, figurines, sealings and Linear B tablets.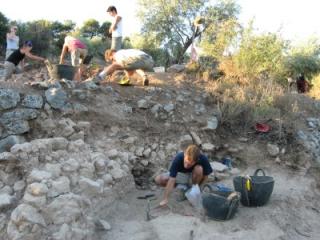 Both groups went on guided tours of other sites/museums in the local area (Corinth, Epidaurus, Tiryns and Lerna) and further a field (including Athens, Olympia, Delphi, Pylos and Gla), fun trips to beaches, festivals and islands and hiked up mountains and fortresses in the afternoons and on weekends. - K. Shelton