New Faces in the Classroom
October 15, 2007
As the new Academic Year forges ahead, the Classics Department has a couple of new faces in the classroom. A new faculty hire in spring 2007 contributes to the strong Greek element of the program while a visiting lecturer adds to the fall curriculum, and may seem rather familiar after all .....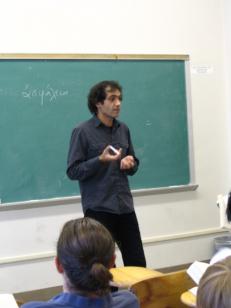 Nikolaos Papazarkadas received his BA from the University of Athens in 1998 and soon afterwards he started working as an archaeologist for the Unification of the Archaeological Sites of Athens project. A year later he moved to Oxford to pursue a D.Phil in Ancient History, which he received in 2004. He was Lecturer in Greek at Trinity College Dublin (2004-2005) and Mellon Career Development Fellow in Classics (Ancient History and Classical Archaeology) at St Hilda's College, Oxford (2005-2007).
His main interests are in Greek History and Epigraphy. He is currently completing a book on "Sacred and Public Land in Ancient Athens", co-editing a collection of historical essays provisionally entitled "Athenian Empire Re-discovered", and is fully involved in a project on the inscriptions from the Aegean island of Siphnos.

Papazarkadas comments, "This is my first time in the US, let alone in Berkeley. So far things have been going rather well. Once I have managed to master all abbreviations and acronyms I will have settled down for good."

Lauri Reitzammer, who received her PhD in Classics from Berkeley in 2006, returns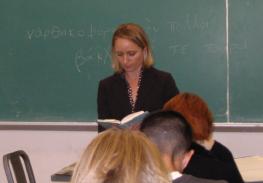 this fall to teach a course on Euripides' Bacchae, having taught last year at Temple University. She is also a Postdoctoral Fellow in Stanford's Introduction to the Humanities program and will be teaching there during Stanford's winter and spring quarters. She is currently working on a book on representations (literary and visual) of the Adonis festival and has published an article (co-authored with John Oakley) on a terracotta figurine associated with the ritual; an article on Aristophanes' Lysistrata and the Adonia is under review. This fall she will be involved in a symposium on the Bacchae at Stanford and at the upcoming meeting of the American Philological Association in Chicago she will give a talk entitled "Stairway to Heaven: Women on Ladders at the Adonia," which examines a handful of vase paintings associated with the festival and their connections with Sappho and the ancient Greek wedding.

Reitzammer adds, "I'm very happy to be back in the Bay Area this year and I'm delighted to be able to combine scholarly work on the Adonis festival (a ritual that involved plant-killing and lamentation) with food from the "gourmet ghetto" and hikes in Tilden Park. Cheeseboard pizza, dead plants, and dirges, what more could anyone ask for? Most of all, I'm thoroughly enjoying reading the Bacchae right now with students who continue to amaze me with their comments and questions."